Today my friends is Wednesday, which means – you need to head over to Jenn's blog and check out the other awesome "What I ate Wednesday" posts.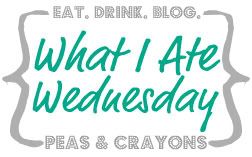 Lately I've been switching up my breakfasts – a lot. I'm trying to find what works for me before lifting. A banana and almond butter do not make the cut on days I'm at the gym lifting for an hour. I need something a little extra on the side.
Today it was 2 egg white puffs drizzled with PB2 with a side of banana & AB (clearly didn't make the picture).
I have also been starting my day off with some protein pancakes. I found Felicia's recipe the other day and had a feeling I was going to love it. I did.
This recipe is so much better than the "oat blend" I was using for pancakes. Grain free makes my stomach much happier. I have made it three days in a row, switching up spices and toppings. A cold banana and PB2 mix is my favorite, for now.
Normally for lunch, I have a salad or a type of protein with tons of veggies but I was starving, I knew the normal salad would not hold me over. I'm trying to avoid grains to eliminate some major bloating t that goes along with it. So far moderate-high protein + moderate-high fats is going great.

I took this halfway through eating. I don't remember the last time I had plain old potatoes but they were delicious! They had soaked up all the juices from the pork overnight. Sweet potatoes will be back, I miss my one-a-day sweet potato.
Did you know 25-50% of people detect an oder after eating asparagus? (Read the article here!) But only a quarter of the population have the special gene that enables them to smell those compounds. I'm one of those lucky people but I don't care because I love asparagus.

Hope you all have a wonderful day!
—————-
Does your pee smell after eating asparagus? (yes I really did ask this question)
Best thing you have eaten today!?